Consider these inviting designs to energize your home and impress your guests.
A few years ago, people were anticipating the demise of dining rooms. That hasn't exactly happened. While homeowners have likely grown more comfortable having their regular close-family meals at more casual spots like kitchen islands and other kitchen eating areas, many still want a separate dining room for hosting dinner parties with friends or big holiday meals. So, if you're looking for dining room design ideas in time for the upcoming holidays, or want to get started on next year's entertaining, consider the following dining room styles.
1. Coastal 
Designer: Julie Benitez of Kathy Ann Abell Interiors
Location: San Diego
Size: 130 square feet (12 square meters); 13 by 10 feet
Homeowners' request. "The room was originally all wood-paneled and felt very dark and outdated, but they wanted something light and airy that complemented their coastal home," designer Julie Benitez says. "By painting the room a creamy white and using light furniture, we gave the room the lift it needed."
Special features. Original knotty pine wall panels painted in Whisper by Dunn-Edwards. Solid reclaimed-wood table in a stony gray wash. Brick fireplace. Wood bead chandelier.
Designer secret. 
"The room wasn't originally a dining room but a long front room," Benitez says. "By adding electrical to include a chandelier, we were able to define part of the space as a dining room. It's these types of details that can make a space its own while still remaining complementary to the room as a whole."
"Uh-oh" moment."Because it was a large room, it was difficult to space-plan and figure out furniture placement," Benitez says. "Then we thought, 'Wouldn't it be neat to have a dining room where the fireplace was in order to create a cozy atmosphere?' Of course, that portion of the room isn't very big, so we scaled down the furniture to fit."
Stratford dining table: Uttermost; Boone square chandelier with wood beads: Creative Co-Op; Coquina hand-woven rattan host chairs: Sloane Elliot; Mango side chairs: Furniture Classics
2. Traditional
Designer: Susan Maier
Location: Concord, Massachusetts
Size: 352 square feet (33 square meters); 22 by 16 feet
Homeowners' request. An updated traditional dining room that would be beautiful and inviting and could seat 10 people regularly and up to 14 if needed. "There was a request to use blue, and we added artichoke green and lemon yellow to stimulate the appetite," designer Susan Maier says.
Special features. Floral wallpaper. Chair rail with wainscoting below. Blue Turkish rug. Dark wood furniture with light blue upholstered seats. Rounded front buffet painted light blue. Wood-burning fireplace. Tray ceiling.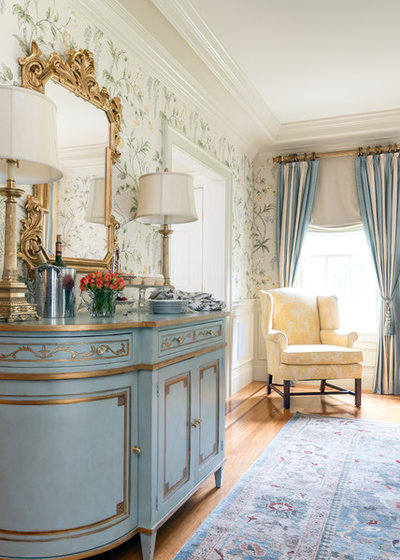 3. Transitional
Designer: Heidi Caillier
Location: Seattle
Size: 150 square feet (14 square meters)
Homeowners' request.Designer Heidi Caillier worked with the homeowners right after they purchased their Tudor home with original details. "We all wanted to retain that character and feel," Caillier says. "They wanted rich colors and a traditional sensibility with modern touches."
Special features. Custom walnut dining table with plum-colored Windsor-style chairs. Modern brass light fixture. Vintage Persian rug. Olive green console with brass accents and a travertine top. "The room feels very warm and welcoming," Caillier says.
Designer secret. "This is one of those rooms where I feel like what makes it sing is everything together," Caillier says. "I love each individual element, but they work very well mixed with each other and it creates a unique look. I love to mix design styles, and you definitely see that in this space."